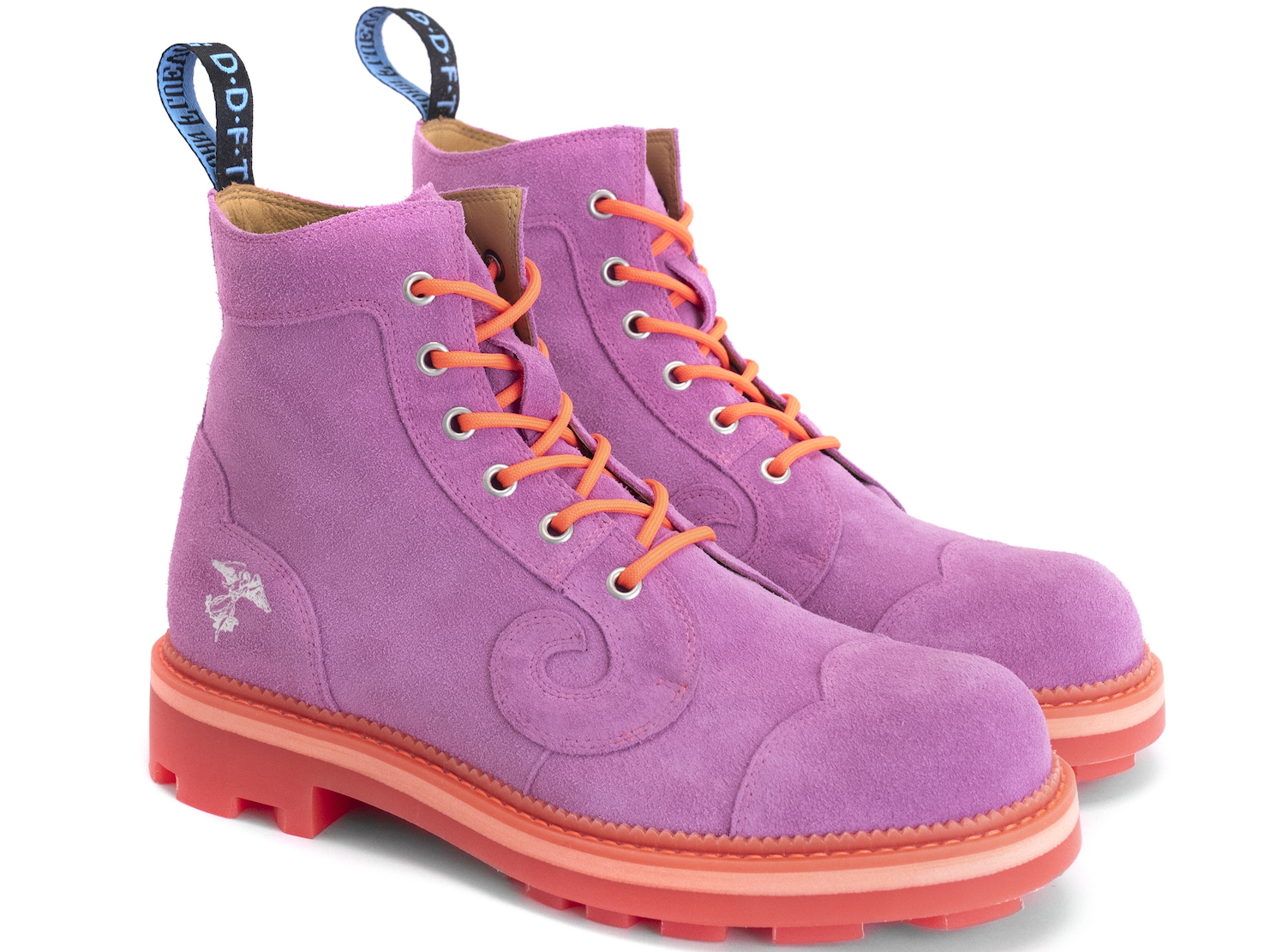 Say hello to vibrant, fun and colourful boots this winter 

Good friends and fellow designers John Fluevog and Anna Sui have created the perfect boots to brighten our winter wardrobes. Having debuted at New York Fashion Week 2020, the denim and yellow suede Derby Swirl boots has now landed Down Under. 
Featuring soft suedes, neon laces and matching neon rubber soles Derby Swirls don't just look great they feel it too. Designed with inbuilt Ortholite insoles made from 20 per cent recycled materials they offer support for both your feet and the environment. 
Fluevog founder and designer John Fluevog said collaborating with long-time friend Anna Sui was a pleasure and is thrilled with the vibrant and edgy design of the Derby Swirl. 
"Having collaborated with Sui before, I was delighted to join forces again and create custom design boots to compliment her Spring/Summer 2020 collection. 
"We have a lot of fun together and wanted that to make sure this was mirrored in the boots. Sui's collection is feminine with floral patterns and layers which is quite the contrast to Fluevog's edgy and bold style. 
"The Derby Swirl really pops and stands out making it easy to add that splash of colour to any outfit. 
"Being able to combine the Anna Sui and Fluevog styles through the Derby Swirl is something I really enjoyed and hope inspires a new wave of Fluvogians." 
If neon shoes aren't your style, no problem – Derby Swirls also come in black and black floral featuring a rubber midsole, air pockets for extra lightness and flex grooves for comfort. 
Black vegan Derby Swirls are also available made from high quality vegan 'leather' and feature 100 per cent recycled rubber soles. 
To get your hands on a pair of the Fluevog x Anna Sui Derby Swirl, head to https://www.fluevog.com/shop/6025-derby-swirl-6-eye-denim?item=5&of=26&anchor=true