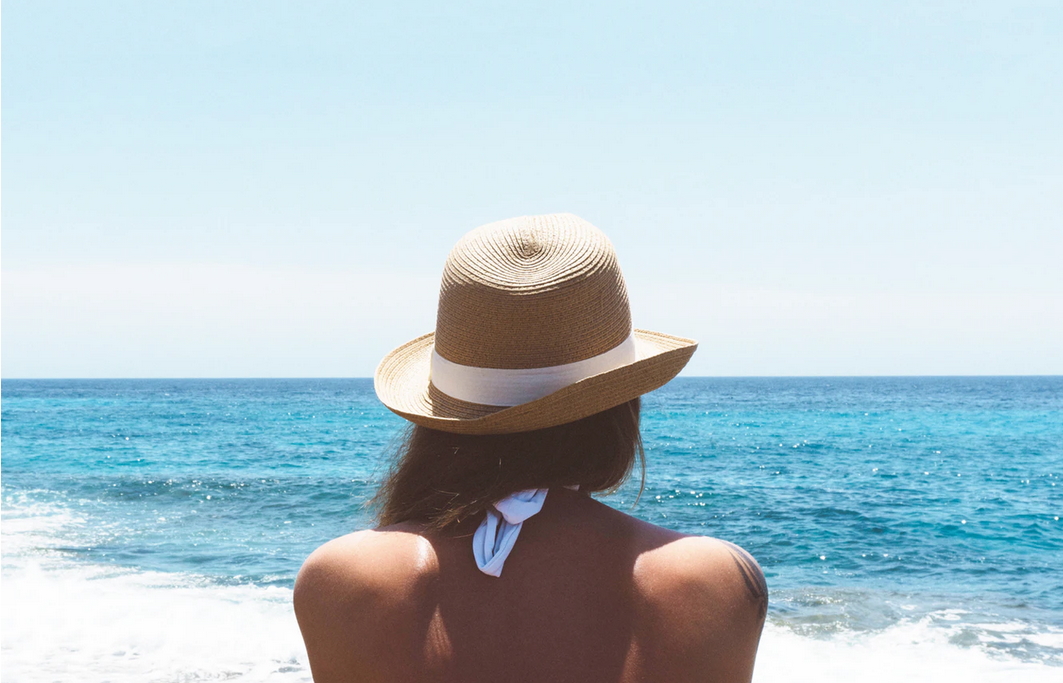 By Sophie Stockman  I  The Ideas Suite
Despite the plentiful campaigns around sun safety – such as the famous 'slip slop slap' now expanded to include 'seek (shade) and slide'[1] – new research has revealed that the messages might not be getting through to a significant minority of Aussies, who don't always know fact from fiction when it comes to sun protection.
Entity Health (entity-health.com), a line of Australian-made natural health supplements that address specific health and skin conditions at a cellular level, commissioned an independent, nationally representative survey of 1008 Australians. It presented respondents with 10 false statements about sun health and skin health and asked them which they think to be true.
One third (33 per cent) of respondents think that wearing SPF 50+ sunscreen means you can stay in the sun longer than if you are wearing SPF 30+ sunscreen. However, there is only a marginal difference between the two – SPF 30 filters about 96.7 per cent of UV radiation while SPF 50 filters 98 per cent.[2]
A quarter (25 per cent) of those in their 30s also don't realise that sitting in the sun without sunscreen for 30 minutes is harmful to their skin. While sunburn isn't always instantly felt, signs of it can start in as little as 15 minutes – such as skin being warm or hot to touch and feeling thirsty – with skin turning red within hours of being burnt.
Nearly one in four 18-39 year olds (21 per cent) incorrectly think being outdoors without sunscreen on an overcast day is not damaging to their skin. However, 68 per cent of over-40s know this can cause damage to the skin, as UV radiation – not sunlight – is what causes sunburn and can remain high even on cool or cloudy days.

While outdoor recreation and drinking goes hand in hand during Australian summers, 18 per cent of 30-somethings don't realise this combination is damaging to their skin, compared with just 10 per cent of over 50s. Research suggests that alcohol increases the skin's sensitivity to the sun.[3] Thirteen (13) per cent of respondents in their 30s incorrectly believe they don't need to reapply sunscreen after they've applied it once.
The survey also asked respondents about how they dealt with sunburn. Of concern, just 10 per cent stay out of the sun in the days to follow. Younger age groups were less likely to stay out of the sun when suffering from a sunburn:  just four per cent of under 30s, compared with seven per cent of those in their 30s, eight per cent of 40-somethings, 10 per cent of those in their 50s and 19 per cent of over 60s.
When respondents were asked what remedy they use the most for sunburns, 50 per cent say aloe vera gel or moisturisers. Just 12 per cent drink more water to rehydrate.

Teri Lichtenstein, consulting dietitian at Entity Health, says: "It's concerning to see the significant number of Aussies who aren't aware of factors that cause damage to their skin, particularly as we are at the time of year where being outdoors is at its highest. Many forms of skin damage and cancer are preventable, but it comes down to being aware of what is harmful to the skin.  
"While aloe vera has long been the go-to remedy for sunburn, it was interesting to learn that just 3 per cent of respondents have used supplements that may help to repair and regenerate their skin following a sunburn. There are supplements people can take that can support skin healing and regeneration, such as a supplement containing nicotinamide as its key ingredient, a form of vitamin B3 that helps to replenish cellular energy to enable faster and more efficient DNA repair."

MelaniX is an Entity Health product that contains the active ingredients of nicotinamide, tomato extract and zinc which repairs skin after high levels of sun exposure and damage. For more information, visit entity-health.com.au/product/melanix/ 


Which of the below scenarios do you think are true?

All Aussies

Under 30s

30-39 years

40-49 years

50-59 years

60+ years

I can stay out longer in the sun if I am wearing SPF50+ than I can with SPF30+

33%

 

32%

32%

38%

28%

35%

Sitting in the sun without sunscreen for 30 minutes is not harmful for my skin

16%

16%

25%

13%

15%

13%

Being outdoors without sunscreen on a cool or overcast day is not damaging to my skin

15%

21%

24%

12%

10%

10%

Glass windows give me some protection from the sun

14%

16%

17%

19%

9%

10%

Outdoor recreation and drinking alcohol together don't negatively affect my skin health

9%

11%

18%

10%

4%

6%

The risk of getting melanoma triples only if I get sunburnt more than 4 times a year

7%

7%

8%

10%

5%

7%

If I have applied sunscreen once, I do not need to reapply sunscreen when I am outdoors

6%

9%

13%

5%

4%

3%

If I have olive or darker skin, I am not at risk of skin cancer

5%

6%

9%

5%

5%

2%

Fake tanning products protect my skin from the sun

3%

4%

7%

4%

2%

0%

Solariums are safer than sun exposure

3%

2%

5%

2%

3%

1%

None of the above

37%

33%

26%

30%

47%

44%
| | | | | | | |
| --- | --- | --- | --- | --- | --- | --- |
| When you get sunburned, which remedy do you use the most? | All Aussies | Under 30s | 30-39 years | 40-49 years | 50-59 years | 60+ years |
| I apply aloe gel or a moisturiser to sunburnt areas | 50% | 62% | 57% | 57% | 50% | 33% |
| I drink plenty of water to rehydrate | 12% | 8% | 9% | 13% | 15% | 15% |
| I stay out of the sun in the days to follow | 10% | 4% | 7% | 8% | 10% | 19% |
| I take a cool shower or bath | 6% | 2% | 6% | 3% | 9% | 9% |
| I take a supplement that has regenerative effects | 3% | 5% | 4% | 5% | 1% | 0% |
| I completely cover sunburnt areas when going outdoors | 3% | 1% | 2% | 3% | 4% | 5% |
| I do a body wrap treatment to help my skin recover | 1% | 2% | 5% | 0% | 0% | 0% |
| I take ibuprofen | 1% | 1% | 1% | 2% | 2% | 1% |
| I put ice on my skin | 1% | 2% | 3% | 1% | 2% | 0% |
| I don't do anything | 11% | 12% | 5% | 9% | 8% | 16% |